Since I've gained several new followers lately! (yay! so glad you're here), I thought it would be fun to let people know a little more about me. So, today, I'm linking up with Night Owl Crafting for their cute

St. Patty's Day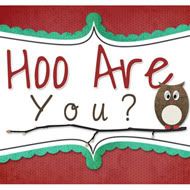 1. What are a couple of your favorite green foods?

First and foremost, Pickles. I am OBSESSED with them. It grosses M out. However, he's learning to embrace the fact that his future wifey is going to eat them a lot. I told him to just wait until I'm preggo! Ha! I also love olives, green beans, and salad. I wish I loved broccoli and asparagus too, but I'm still working on loving those.
2. Do you decorate for St. Patrick's Day?

Yes, I didnt do a lot, however I made this cute wreath found
HERE
.
3. Do you have Irish in you?

Yes. My mom's side of the family has a lot of Irish heritage.
4. Do you celebrate St. Patrick's Day?

Normally, yes. It just depends on what's going on and what day it occurs. This year, however we are definitely celebrating! We are running the Shamrock Shuffle 3K Saturday morning, then enjoying our downtown festival! The weather is supposed to be wonderful so we are super pumped!!
5.Use one word that represents each letter in the word LUCK in your life!
L

- Lucky. Not to be cliche, but I feel pretty lucky in my life right now. The Lord has definitely blessed me this year!!
U

- Unsure. I am still unsure what I really want to do with my life career wise. After teaching for 7 years, I feel like I'm ready for a change. Maybe it's the 7 year itch or maybe the Lord is calling me into something different?! Stay tuned...
C

- Clumsy. This morning, for example, I spilled my vitamin mixture all over me and my car and managed to smoosh my co-worker's B-day gift in the process. Things like this happen to me daily. ha!
K

- Kinney. I'm almost a Kinney, only 83 more days!!
By the way, if you haven't check out the

Crock-Pot Beer Corned Brisket

recipe yet (in honor of St. Patty's Day), do! It was Yum!!!
Happy almost St. Patty's Day!!
Ash